Archive for the 'Unique Chairs' Category
After searching for more crazy chairs to share I've found 5 more wacky and weird ones to add to our list!
5. Tank Chaircheap discount viagra
-content/uploads/2009/10/tank_chair.jpg">
If you want a chair that can go anywhere, literally, then the Tank Chair is the right choice for you! This is a custom off-roading chair, "conquers streams, mud, snow, sand, gravel — allowing you to get back to nature — and you can also climb up and down stairs." It features motors built by NPC Robotics. I know I definitely could use these to climb the three flights of stairs in my house… *Source*
4. Animi Casa
Who ever thought sitting on balls would be the next idea for a new chair? The Feel Young "is made of 120 soft and extremely pleasant balls. It can be used as a spare bed for unexpected guests." I don't think I've ever sat on a chair full of extremely pleasant balls…not even sure if I know what that means :-/ *Source*
3. Anthony Redmile Carved Armchair
The Anthony Redmile Carved Armchair is by far the creepiest devil chair I've ever seen, make that the only devil chair I've ever seen. To add to the creepiness of this chair is the fact that it is made with malachite bone. The chair was originally made in England in the 1960s and is a one of a kind creation. *Source*
2. Maxi lounge chair
Kinda looks like these two are sitting on a moon but really it is a slouch couch. "A six-foot diameter curved chair with a highly finished fiberglass shell and an upholstered interior. I'll admit that it does look comfortable but I'm not sure if two people would actually be able to fit on that comfortably.
1. Meat Chair
Don't be alarmed, the meat chair isn't actually made out of meat. Italian artist Simone Racheli had the artistic vision to transform everyday objects into meat. The products are made from plastic, wax, and other materials. They are not being specifically sold so don't get too excited! *Source*
Just when you think you've seen it all, think again. We have compiled 7 of the funniest chair commercials and infomercials we could find. Let me tell ya, they are pretty entertaining. So sit back, relax and enjoy these commercials and hope this never happens to you when you are sitting in your office chair!
1. LeBron James Commercial
I'd be afraid to make him angry but apparently this guy isn't
2. The Ladders 2009 Superbowl Commercial
Wild chairs on the loose
3. The Nike "Musical Chairs" Commercial
Not your typical game of musical chairs
4. Hawaii Chair Infomercial
Doesn't really look like you could really do much while sitting on the chair but I guess you can get a good work out?
5. Craftmatic Chair Commercial with trade in
Chair magic wow!
6. Toyota Chair Commercial
If only chairs could move on their own like this….
7. FlexibleLove – The Flexible Chair
Unlike anything I've ever seen before! Doesn't look to comfortable but definitely got my attention.
Do you Heart EzineArticles.com, too?
Chairs..That's right chairs… it would be hard to believe, but that's what we talk about here. Chairs are one of the most basic concepts of man. Before we even knew what to call our ass, we were s
itting on them. We have been taking our asses for granted way to long. The chair is up there with the concepts of the club and wheel. You can't really change these concept, you can just add to them. To give you an example, here are two cavemen.
Caveman 1 – Chip… chip.. chip "MMM…Look. I made chair"
Caveman 2 – "Wut iz chair?"
Caveman 1 – "Chair. You sit on it." says proudly.
Caveman 2 – "You mean like rock."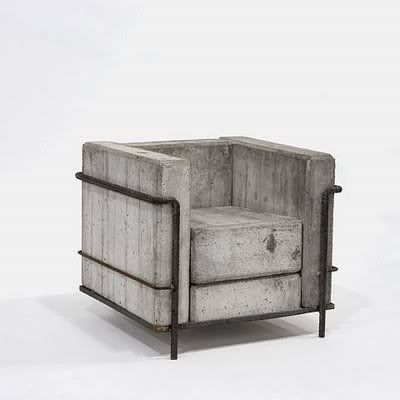 What the caveman's chair may have looked like (above), but probably looked more like this (below)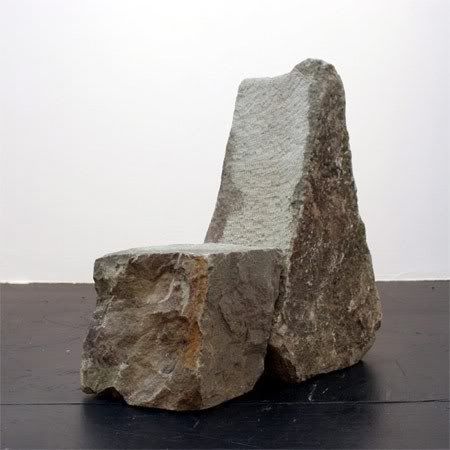 All in all chairs can come in all shapes, sizes, and styles. You name it, its been done and if it hasn't it will be. This article is about those chairs that make you question humanity.
If I were to believe that someone thought seriously about these chairs. I would have to say that this little ball in the middle of nowhere is..
doomed… DOOmed…. DOOOMED!!
So for our first strange chair. A fusion of man and machine. Ok maybe not machine, it just sounds cooler than this.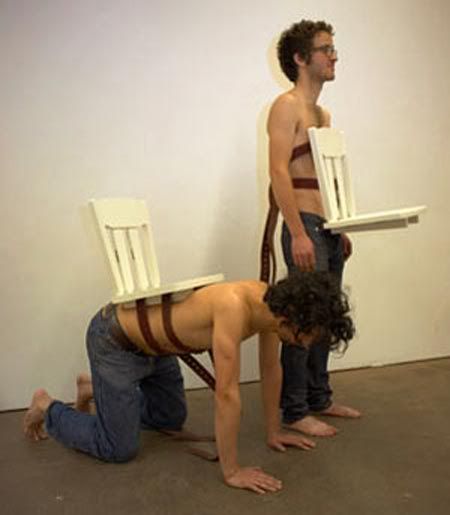 "Please stop moving or you will spilleth my crumpets and tea."
I am sure this is not an original idea. Since people have been sitting on each other for thousands of years. Who doesn't love a bully who likes to play the game "Name Seven Candy Bars". But to strap a chair to yourself? Now you're just asking for it. On a positive note though. When our alien masters come at least we will have some use.
For our next chair I think I am going to have to be a little mean, I don't want to, but I can't help myself. What I have to say about this chair is REALLY!?
This is an actual chair. That means someone spent money on this. I don't know how much and honestly I don't want to know. But I am sure it will look lovely with your refrigerator sofa, love sink, and nesting toilet. I am all in favor of the creative process, but when you try to sell me something that I might find in a backyard…. Oh you might say "What about those fancy legs?" Nothing a few chrome mufflers and duct tape can't fix.
On a lighter note. These chairs are the awesome.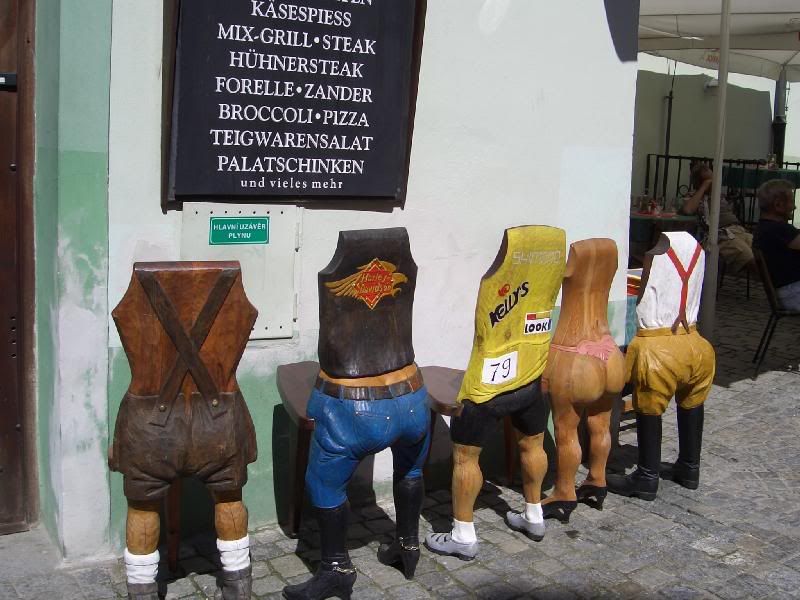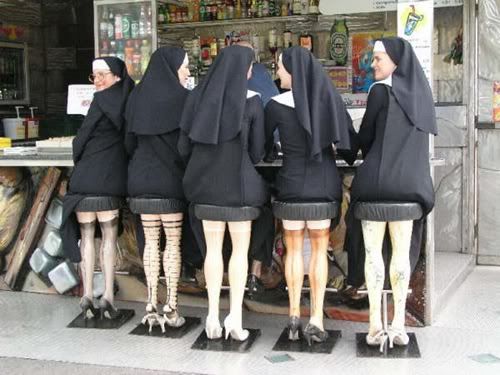 This is creativity after it hits about eight pints. But I don't know whats more disturbing. The place you sit (left picture) or that those nuns have really nice legs.
As I looked at the next set of chairs I started to question my sanity. IS what I am seeing real?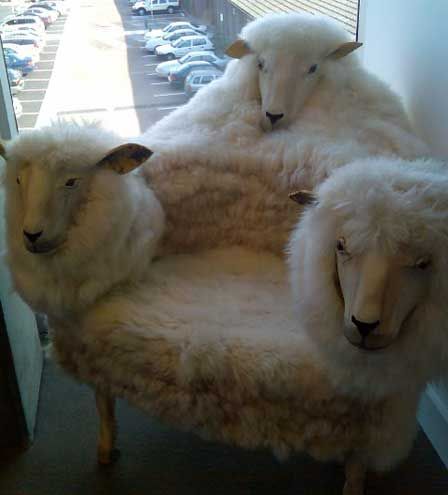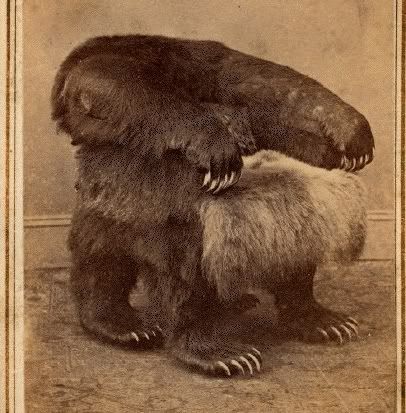 As the insanity sets in. This begins to unfold in my brain.
Customer – "Hello. I would like to purchase a leather office chair."
Customer Service – "That's great. What were you interested in? Executive, conference, task.."
Customer – "Well. Actually I was thinking… Would it be possible, instead of just leather, you could use the whole cow?"
Customer Service – "Uhhh…what?"
Customer – "Use the whole cow. I would like the headrest to be… well.. you know..the head.."
Customer Service – "I…ummmm"
Customer – "And the five star base to be its legs."
Customer Service – "Bbbut cows only have four legs."
Customer – "Oh that's ok. I have a mutated cow I have been keeping around for just this occasion."
And so I stop this insanity before its to late. On one hand a three headed sheep "The devil made me do it". I have no doubt. And on the other hand a six legged bear would be kinda cool as long as it wasn't mauling me to death. Either way I would feel a little uneasy sitting in these chairs.
And for the final chairs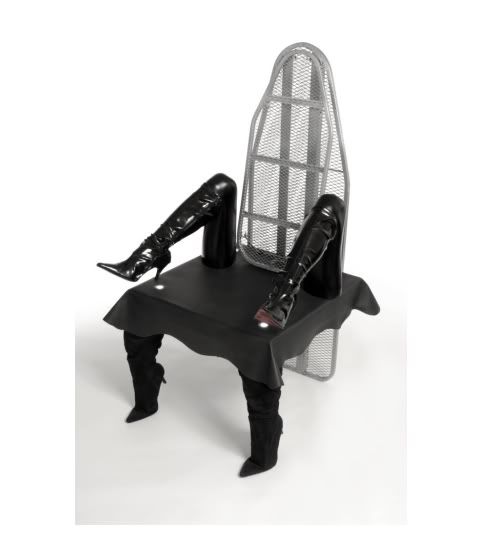 And we are all thinking the same thing. Nothing hotter than a half naked chair, except maybe a fully naked chair. No? Then maybe its just me.
Picture if you will. A guy and girl out on a date. Everything is going really well. He takes the girl back to his play. One of these chairs is in the corner. The girls says "What an interesting chair." The guy comes up to the girl and says "You should see my bed… its round and has leopard print… (whispering) and it rotates. Next thing you know the guy is standing there alone with his naked chair.
But to be fair the image on the right is an artist analogy for the modern day house wife and is called "The Bored Housewife Throne"
rong style="color: #0C5DA5″>Three Sweet Features:
1. Anti-Microbial
2. A variety of vinyl colors
3. Posture back adjustment
The Thorough Review:
A very popular anti-microbial Vinyl task chair, OFM was great enough to produce a video of the functionality of the chair! Check it out below:
The OFM Vinyl Posture Task Chair is available at SitBetter – we think it is a great, value oriented task series, and it provides a great deal of reliability and cleanliness for any office, medical, or industrial space looking for both.
The Ratings:
Durability:
Never had one issue with the chair. The foam is thick, the parts are solid.
Adjust-ability:
Good enough for a task chair in anti-microbial environments. Posture Back does the trick. There are more ergonomic ones, but this is a task chair, not an ergonomic chair.
Style:
It looks like a task chair. Nothing spectacular, but that is not the point of a task chair. Functionality is key. The different vinyl colors, however, swing points in its direction. Very cool.
Overall Rating (Not an average):
Combining value with durability, comfort and reliability, this is a great choice for a single use (8 hrs a day) task chair where anti-microbial furniture is needed!
Want to know more about how we rate chairs? Check out our Ratings Guide!